Nursing
You can become a Registered Nurse (R.N.) without a bachelor's degree, but the job market tells us that BSN-trained nurses have broader, higher-paying career opportunities. The extra step is well worth it, and employers are looking.
Convenient schedules for adults
The BSN program is offered in a hybrid format, with the majority of courses offered online.
Program Overview
The Bachelor of Science in Nursing Program prepares graduates to sit for the NCLEX-RN licensure examination and practice as a registered nurse. Employment settings include long-term care, acute care, complex and critical care, school nursing, home health and community health nursing. Graduates are prepared for leadership and quality improvement positions.
Nursing graduates are trained in:
Patient care
Nursing fundamentals
Pharmacology
Therapeutic treatment interventions
Medical/surgical nursing
Leadership
Mental health nursing
Mother/baby and pediatric nursing
Licensure examination preparation
The Bachelor of Science in Nursing degree is CCNE Accredited.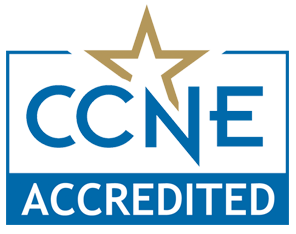 The Bachelor of Science in Nursing degree at Eagle Gate College is accredited by the Commission on Collegiate Nursing Education, 655 K Street NW, Washington, DC 20001, (202) 887-6791. More at www.ccneaccreditation.org.

What do I need to do to start?